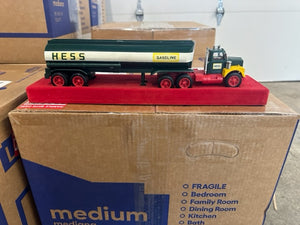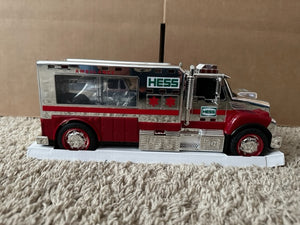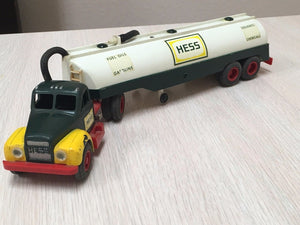 AJ's Hess Toy Trucks, Specializes in the sale of Hess Toy Trucks, Hess Toy Truck Mini's, Hess Toy Truck Buttons and Hess Toy Truck Signs.
Order Online or Call Us at 570-877-4459
Contact us today. We are here to answer any questions you may have. 570-877-4459
Collection list
1996 Hess Voyager Ship
The second consecutive release of the Hess toys was the Hess Voyager, this too was a replica of another Hess vehicle but it wasn't a truck. It was a ship! It was a reproduction of the actual Hess tank that first sailed in 1962. Besides being the first toy ship in this line of toys it was also the longest in the fleet of Hess toys. This toy Tanker Ship measured 18-inch-long and it featured detailed maritime items such as propellers, anchors, and a flag in addition to bow, stern, starboard, and port lights.
1967 Hess Tanker Trailer Truck "Red Velvet" Gas Oil Truck w/ Box USA
Sorry, this item is out of stock
1994 Edition Texaco Toy Tanker Truck - 1st in a Collectors Series
Sorry, this item is out of stock
Looking to Sell Your Collection?
We Buy Collections! No Collection is to small. Call us today 570-877-4459